Want to Host a House Concert
with Chords of Truth?
Watch Video For What To Expect!
If you're anywhere in the US... Please note that I am consistently traveling for Pickleball tournaments and performing music... so could be ANYWHERE in the future... and could come to YOUR home for an intimate acoustic musical journey...
I just need to know you're interested.
CLICK / TAP HERE FOR INQUIRIES!
Hey I'm Jason Garriotte and want to tell you about my house concerts.
I'm going to create a better video once I get some footage from a few, but up until now all of my "house concerts" have been just unofficial, usually impromptu, and I didn't record anything.
So I'm basically just telling you that I'm willing to come to your house to perform for FREE!
Now there are some minimum expectations that should make it a win-win for us... all around. And basically it's that you make sure you have 8 or more people that want to see the show.
I mean... I've played plenty for nobody… and I've played for 1 or 2 people many times.
But those just kind of happen, and what I'm looking to do here is set something up to give you an experience. An introspective musical journey of reflection and perspective.
See my lyrics are about existential and personal development concepts like the powers of attention, intention, attraction, and NOW!
Essentially I'm using acoustic folk music to deliver uplifting, life changing mantras and affirmations based on those ideas. But it needs focused attention to work. Literally!
See I've been playing guitar and singing for 20 years and I've been performing live regularly for the last decade. And have found that MY songs work best when I have a relaxed, attentive audience that wants to really experience the music.
So I am going to start bringing my shows to your homes. Even backyards, or garages.
I can do shows with nothing but an acoustic guitar.
I can do shows with a full PA and a band... and everything in between.
So if you want to book a house concert or just want more details...
Submit your info through the form below.
---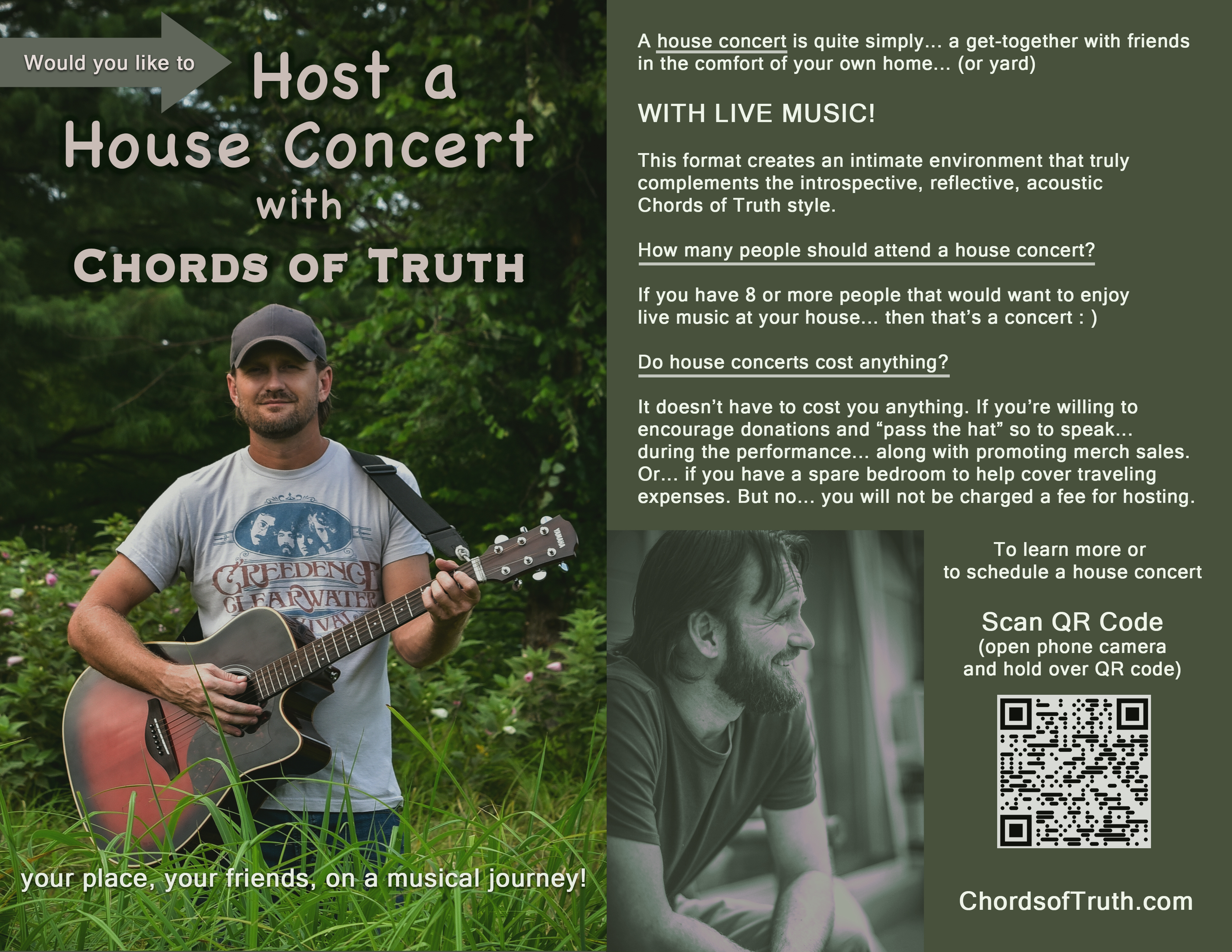 Tap / Click here to Enlarge